Welcome to our website!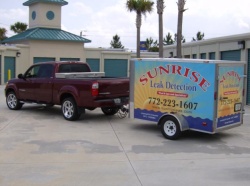 My name is Mike and along with my wife Kris, who runs our office, we offer over 20 years experience in residential swimming pool and spa leak detections.  We are dedicated to bringing you professional and quality service at affordable prices, backed by the best warranties in the business. We are a state licensed and fully insured company. License # CPC1456884
We use the latest in sonic and electronic equipment and are able to pinpoint any leak, from the smallest leak to a broken pipe under ground without any damage to your patio or yard.  If you have a leak, I can assure you that Kris and I will make every effort to expedite your leak issues as fast and professionally as possible.  Please feel free to contact us with any questions you may have.
"Serving Palm Beach Gardens to Port St Lucie"
Sunrise Leak Detection has been selected for the 2019 and 2022 Best of Stuart Award in the Swimming Pool Repair Service category by the Stuart Award Program. Click here to view press release